CardioGen Upgrade Helps Clinicians Accurately Diagnose Monogenic Cardiovascular Diseases
2023-05-24
- Over 2,800 cases, representing a 31 percent increase, added to BGI Genomics-led CardioGen's Hereditary Cardiovascular Disease Gene Data

BGI Genomics, together with the National Center for Cardiovascular Diseases, Fuwai Hospital, and the State Key Laboratory of Cardiovascular Diseases, is pleased to announce an upgrade of the CardioGen automated interpretation system, the "Genotype and Phenotype Database of Monogenic Cardiovascular Disease." This upgrade covers the addition of over 2,800 cases from the initial 9,000 cases, covering monogenic hereditary hypertension, cardiac ion channel disease, and pulmonary arterial hypertension. The cardiomyopathy (hypertrophic cardiomyopathy, dilated cardiomyopathy, and arrhythmogenic cardiomyopathy) component of CardioGen was earlier included in a trial release in January 2023.
CardioGen comprehensively collects and integrates information on the variant loci of disease-causing genes reported in the global literature and public databases, as well as clinical phenotypes of patients, to facilitate accurate interpretation of the variant loci by clinicians once the genetic test results are available. As this database grows, clinicians will be able to make more accurate clinical interpretations after receiving genetic test results.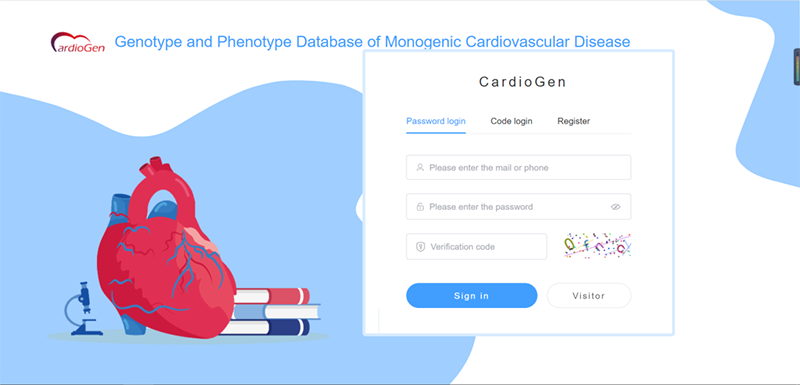 System Highlights
1: Visual display The database is published on a website, providing a search function for genes and gene locus, providing a visual display of such information with the addition of phenotype.
2: More convenient clinical application and analysis Compared with other databases, CardioGen also includes the clinical phenotypes of patients with monogenic cardiovascular diseases carrying pathogenic variants and provides more clinical reference information for genetic diagnosis.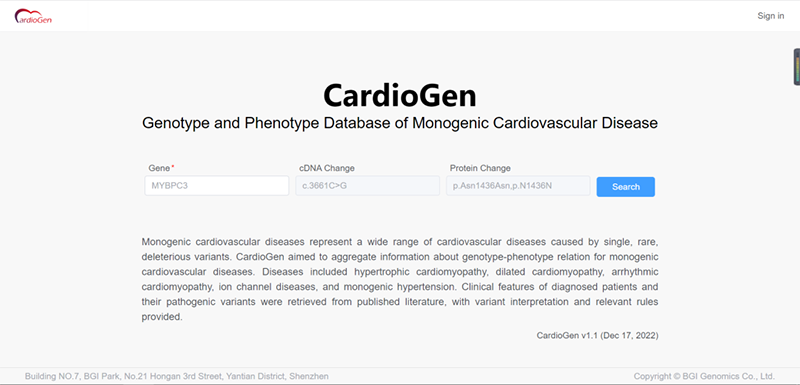 3: More abundant data sources Besides the genetic information and clinical phenotypes of monogenic cardiovascular diseases reported in English literature, CardioGen also offers publicly available information and research data found in Chinese literature. This enhances the reliability of genetic testing data for patients worldwide.
4: More accurate site interpretation Based on the standardized variant interpretation guidelines jointly published by the American College of Medical Genetics & Genomics (ACMG) and the Association for Molecular Pathology (AMP) in 2015, the team of experts customized site-specific interpretation rules for monogenic cardiovascular diseases, used information collected in the database of genetic variants and aggregated clinical information. CardioGen automated the interpretation process, presenting accurate results suitable for clinical use.
In addition, as genotype-phenotype association information gets constantly updated, the system will automatically update the loci interpretation results to further enhance accuracy.
Upgraded and optimized content
1: Expansion of disease categories Based on the database of cardiomyopathies, three new categories of monogenic hereditary cardiovascular diseases have been added:
Monogenic hereditary hypertension: including Liddle syndrome, Gordon syndrome, episodic salpingitis, etc.;
Cardiac ion channel disease: including long QT syndrome, short QT syndrome, Brugada syndrome, etc.;
Pulmonary arterial hypertension. Through keyword-based literature searches and manual phenotype extraction, the upgraded database has more comprehensive coverage of disease categories and richer genotypic associations.
2: More cases and more complete phenotype Based on the new diseases and keywords gathered from associated genes, the researchers conducted a literature search in the Chinese and English databases, read, filtered, and extracted the associations between genetic loci and phenotypes. This update adds more than 2,800 cases from the literature and customizes different case phenotype display pages for different diseases so that the association between genetic information and phenotype information is more accurate.
3: Database expansion and update
Along with the increase in disease types, the number of associated pathogenic genes has increased from 21 to 59, and the number of included Clinvar loci has increased from nearly 50,000 to nearly 90,000, with richer searchable contents. The annotated database focuses on the content of the Clinvar database, and this update also upgrades the version of the Clinvar database to 20230318, with more accurate pathogenicity information.
We welcome clinicians to test-drive the CardioGen website.
About BGI Genomics
BGI Genomics, headquartered in Shenzhen, China, is the world's leading integrated solutions provider of precision medicine. Our services cover over 100 countries and regions, involving more than 2,300 medical institutions. In July 2017, as a subsidiary of BGI Group, BGI Genomics (300676.SZ) was officially listed on the Shenzhen Stock Exchange.