Fecal DNA Testing is a Key Tool for Early Detection of Colorectal Cancer
2023-02-12
Overview of the current colorectal cancer landscape
Colorectal cancer is the third most common cancer worldwide, with over 1.9 million new cases in 2020, and is also the third most common cause of cancer-related mortality. Colorectal cancer rates are particularly high in the developed world, and alarmingly, the rates are increasing in many other countries as well, with changing dietary habits thought to be one major contributing factor.
In Europe, colorectal cancer is one of the most common cancer types and a leading cause of cancer-related deaths. It is estimated that 1 in 35 women and 1 in 22 men will develop colorectal cancer. There is a significant increase in the risk of developing colorectal cancer between 45-69, with this age range and the 70+ age range representing the highest risk groups. As of 2020, two European countries, Hungary and Slovakia, have the highest colorectal cancer incidences and mortality.
The increasing prevalence of colorectal cancer in younger populations and the potential severity of the disease have meant many researchers stated the need for early screening and detection tests. Most colorectal cancer screening guidelines in Europe recommend that individuals at average risk, with no symptoms nor a family history of colorectal cancer, should begin regular screening at age 50.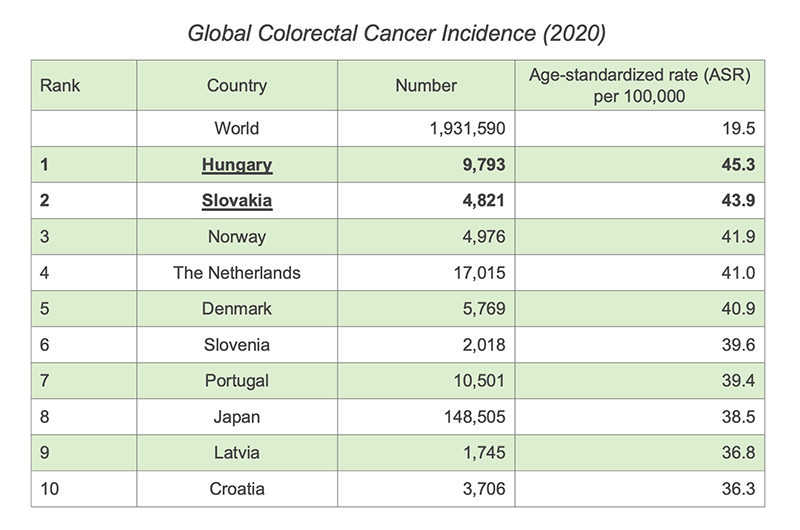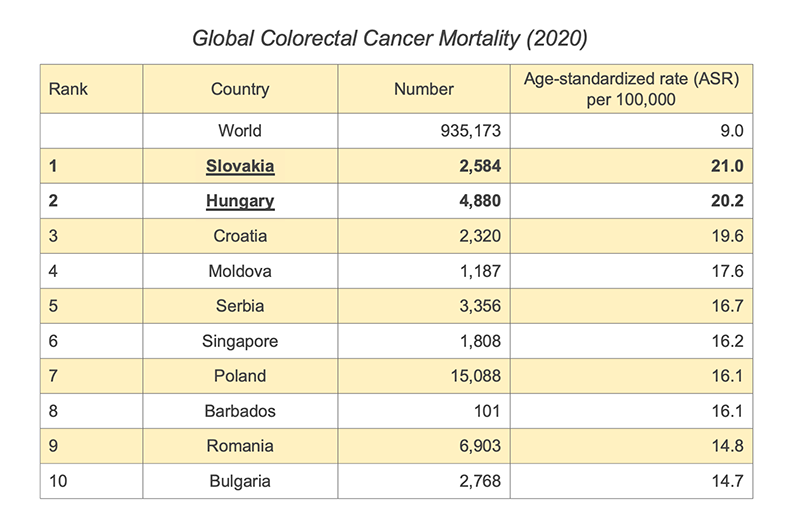 Data source: World Cancer Research Fund Organisation (2020). Colorectal Cancer Rates, https://www.wcrf.org/cancer-trends/colorectal-cancer-statistics/, accessed December 2022

Importance of screening and early detection for colorectal cancer
Although treatment options for colorectal cancer have advanced considerably over recent years, prevention is undoubtedly the preferred approach for individuals and society as a whole.

A study published in 2021 demonstrated the tremendous economic burden that colorectal cancer could place on patients, their families, and the healthcare systems. It is estimated that the economic burden of colorectal cancer across Europe in 2015 was as high as €19.1 billion, which included the direct expenditure on cancer care and non-healthcare costs such as loss of productivity and opportunity costs for informal carers.

The study also highlighted that the EU's overall expenditure on cancer drugs increased by over 200% from 2009 to 2015. This was particularly the case in Eastern Europe, in countries such as Bulgaria (increased by over 800%) and Hungary (increased by nearly 400%), and these expenses were not necessarily associated with better outcomes.

It is clear that colorectal cancer has an enormous impact not only on the health of individuals, but also increasingly on the financial prosperity of families and economies, and actions need to be taken. Public health actions by governments, industries, and communities include taking educational approaches to the importance of colorectal cancer prevention and early detection, launching national screening programs, and promoting the use of whole-genome sequencing technology to identify high-risk patients.

Many colorectal cancers can be prevented through regular screening. Precancerous polyps, which are the abnormal growth of tissues in the colon or rectum, can take as long as 10-15 years to develop into cancer. With screening, precancerous polyps can be found and removed before they have a chance to turn into cancer. Screening is also particularly important for colorectal cancers as they usually display no distinct symptoms in their early stages.

When colorectal cancers are detected early, they are highly treatable. If a diagnosis is made when the cancer is still highly localized, the overall five-year survival rate can be around 90%. In contrast, in metastatic colorectal cancer, the five-year survival rate decreases drastically, to only around 10%.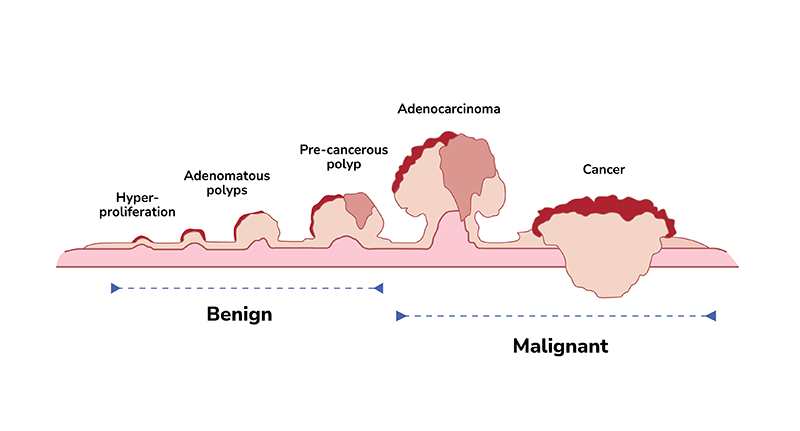 Current screening approaches for colorectal cancer

Current colorectal cancer screening methods include invasive and non-invasive tests.
Invasive approaches such as flexible sigmoidoscopy and colonoscopy offer direct colon visualization and detection of polyps or advanced neoplasia with the advantage of getting a pathology specimen. Colonoscopy is often considered the gold standard for screening with high sensitivity (75-93%) and specificity (89-91%). However, the procedure requires skilled personnel and equipment, which is not always easily affordable and accessible to the general public. It can also be an unpleasant experience because of its invasive nature, and that bowel preparation and anesthesia are required.
There are also non-invasive methods available, including blood tests and fecal-based tests. Self-sampling is more accessible with fecal-based tests. The fecal-based tests currently available are the guaiac-based fecal occult blood test (gFOBT), fecal immunochemical test (FIT), and the novel fecal DNA testing (also known as multitarget stool DNA test).
gFOBT detects occult blood in the stool sample with a chemical called guaiac, as traces of hidden blood that the eye cannot see could be a sign of cancer. However, this chemical reaction is not specific to human blood. It can also detect animal blood derived from food. FIT is an improvement of the guaiac method of detecting hemoglobin in the stool, using antibodies specific to human hemoglobin. For its higher sensitivity and specificity, FIT has mostly replaced gFOBT across many European countries. The newer fecal DNA testing looks for abnormalities characteristic of the DNA shed from colorectal tumor and polyp cells. This is a promising strategy to enhance the sensitivity of FIT further.
An abnormal result from fecal-based tests may indicate the presence of colorectal cancer or advanced adenoma, and should be followed by a diagnostic colonoscopy.
Fecal DNA testing
FIT has been widely used in colorectal cancer screening, with study estimates of sensitivity for colorectal cancer at around 60-85%; however, with limited sensitivity to early-stage advanced adenoma, at about 27-29%.
The newer fecal DNA testing is generally considered more sensitive than FIT due to this method being able to look for specific DNA changes found in cancerous tumors or precancerous polyps. Cells from precancerous and cancerous lesions with these mutations often shed DNA biomarkers into the stool.
Aberrant DNA methylation is an event that is common, stable, and one of the earliest molecular changes that occur during carcinogenesis. It is also detectable in small amounts of DNA. Based on this principle, fecal DNA testing could potentially outperform FIT in not just detecting colorectal cancer, but more notably, precancerous adenoma.
COLOTECTTM 1.0 : A non-invasive fecal DNA test for colorectal cancer

COLOTECTTM 1.0 is a non-invasive fecal DNA test developed by BGI Genomics for detecting colorectal cancer and precancerous lesions. It uses multiplex methylation-specific PCR (MSP) technology to trace abnormal DNA-methylation biomarkers in colorectal cancer from stool samples. Detection of methylated DNA as a tumor biomarker is becoming common in many cancer types, including colorectal cancer.

COLOTECTTM 1.0 is 1.0 is highly sensitive and specific, designed with a simple workflow approach, and is compatible with commonly used PCR platforms. It has a 88% of sensitivity for colorectal cancer, and most importantly, for early detection, its sensitivity for advanced adenoma is 46%. Its specificity in non-advanced neoplasias is also as high as 92%.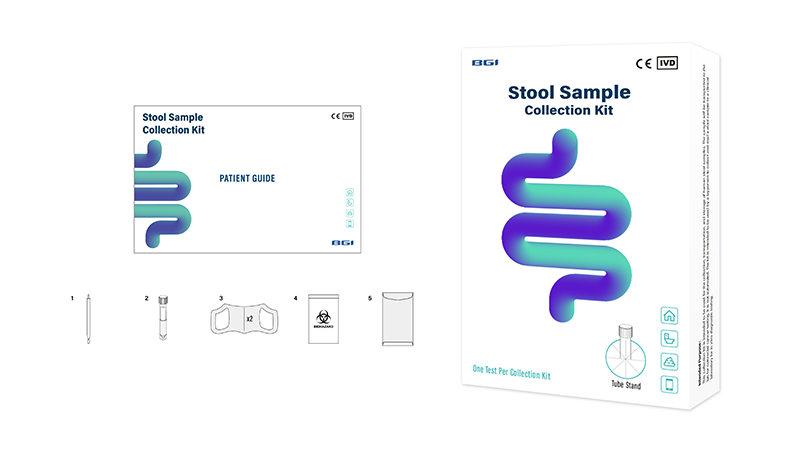 The stool samples used for COLOTECTTM 1.0 can be self-collected in the privacy of your own home at any time, with all the necessary stool collection tools and instructions included in one kit. There is also no dietary restriction or changes of medication required before taking the test, allowing a more convenient option and greater patient compliance. The ease of use and non-invasive nature of the test helps overcome many of the obstacles to colorectal screening faced by patients.
Self-sampling instruction of Colotect™ 1.0, a Non-invasive fecal DNA Test for Colorectal Cancer
Samples collected shall then be mailed to BGI Genomics or its partnering laboratories for testing. A report will be ready in around ten calendar days. Any abnormal result indicates the need for further assessments and diagnostic tests, which will happen following consultation with a medical professional.

COLOTECT™ 1.0 is CE-marked, now available in more than 20 countries across South-East Europe, including Hungary, Poland, Romania, North Macedonia, Serbia, Slovakia, Slovenia, Portugal, and many more. Contact BGI Genomics at info@bgi.com to find out how the high sensitivity and specificity of COLOTECT™ 1.0 can help improve colorectal cancer prevention and early detection, offering your patients better healthcare outcomes and greater convenience.
About BGI Genomics
BGI Genomics, headquartered in Shenzhen China, is the world's leading integrated solutions provider of precision medicine. Our services cover over 100 countries and regions, involving more than 2,300 medical institutions. In July 2017, as a subsidiary of BGI Group, BGI Genomics (300676.SZ) was officially listed on the Shenzhen Stock Exchange.