Introduction
BGI's hereditary risk screening cancer panels target genes previously linked to a predisposition of cancer. Panel selection was based on expert curation of scientific literature and other high quality resources, including formal medical guidelines.

BGI's Comprehensive Hereditary Cancer Panels provides information on 79 genes associated with 24 different types of hereditary cancer including some of the most commonly occurring cancers such as hereditary breast, ovarian, colorectal, pancreatic, prostate, and stomach cancer. BGI detects different alterations including germline SNV, Indels, and CNV.
华大基因的遗传风险筛查癌症小组以先前与癌症易感性相关的基因为目标。专家小组的选择是基于专家对科学文献和其他高质量资源的管理,包括正式的医学指南。华大基因研究所的综合遗传癌症研究小组提供了与24种不同类型的遗传癌症相关的79个基因的信息,包括一些最常见的癌症,如遗传性乳腺癌、卵巢癌、结肠直肠癌、胰腺癌、前列腺癌和胃癌。华大基因检测到不同的变异,包括生殖系 SNV、 Indels 和 CNV。
SUITABLE FOR:

Patients suspected of being at increased risk of hereditary cancer

TA TIME:

14 - 26 days

SAMPLE:

Peripheral blood, DNA, Saliva

TECHNOLOGY:

Target region capture, High-throughput sequencing
List of Hereditary Cancers Panels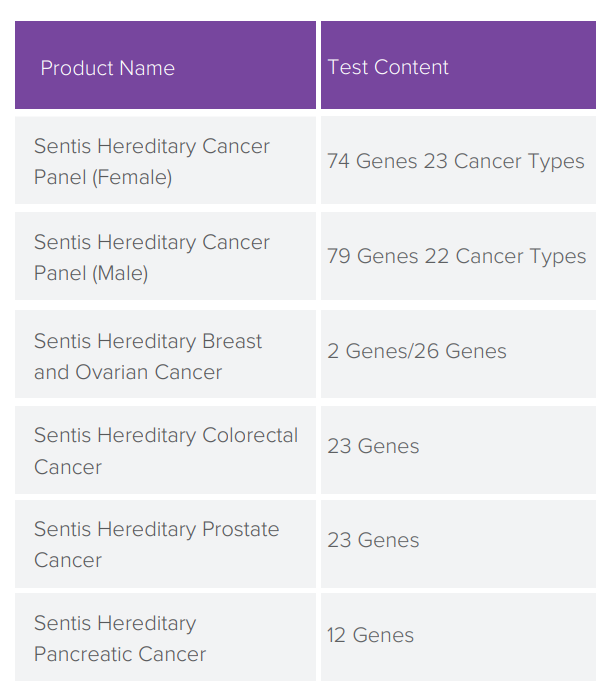 Why Choose BGI SENTIS™ Hereditary Cancer Screening?
Comprehensive – whole-exome plus flanking intronic regions covered for all genes tested; one single assay that detects point mutations, deletions, insertions, duplications, rearrangements
Robust – Large gene rearrangements are verified by qPCR
Convenient – test from blood or saliva; DNA is also accepted
Professional – Professional database ensures up-to-date analysis and interpretation.

Note: this test is considered a screening test, not a diagnostic test. Before making any treatment decisions, all patients should discuss their results with their healthcare provider, who can recommend confirmatory, diagnostic testing where appropriate. This testing service has not been cleared or approved by the US FDA and is not available in the USA.

Workflow
Ordering the BGI SENTIS™ Hereditary Cancer Screening is easy.
STEP 1

Physician orders test

STEP 2

Blood or saliva sample collected

STEP 3

Sample shipped to BGI and analyzed

STEP 4

Results sent to physician
STEP 1

Physician orders test

STEP 2

Blood or saliva sample collected

STEP 3

Sample shipped to BGI and analyzed

STEP 4

Results sent to physician