Long Fragment Read Whole Genome Sequencing Service Description
Current short-read based Whole Genome Sequencing (WGS) is the most widely used method for identifying genome-wide aberrations such as point mutations with read length typically less than several hundred base pairs. This short-read based WGS approach is proven to be highly informative in terms of detection of point mutations, indels and copy number alterations. However, short-read sequencing often results in sequences with scaffolding gaps, bias due to high GC content, repeat sequences and mis-aligned sequences. To interrogate the human genome at a higher resolution with better quality, the standard NGS workflow is challenged, especially for complex Structural Variation (SV) discovery, due to insufficient read coverage at breakpoints and loss of long-range genomic contiguity.

Technology
BGI's innovative Single Tube Long Fragment Read (stLFR) technology produces long range information with accurate short-read sequencing, uniform coverage and superior SV detection capability, while maintaining reproducibility and consistency. With a small amount of input HMW genomic DNA (as low as 1 ng, approximately 300 genomic equivalents), added to a single tube containing 30 million barcoded beads, where the gDNA molecules are barcoded and subjected to random priming and polymerase amplification. Co-barcoded DNA fragments are then released followed by a modified library preparation process. The resulting libraries undergo DNA Nanoball (DNB™) generation and DNBSEQ sequencing. BGI's proprietary computational algorithm uses the barcodes to assemble sequencing reads to the original HMW DNA molecule, enabling the construction of contiguous segments of phased variants.

Long Fragment Read WGS for Superior SV Detection
Compared with conventional WGS services, stLFR-based Long Fragment Read WGS (lfrWGS) delivers less bias, higher cover- age, higher reproducibility and near-complete genomic information. It significantly improves structural variants detection while maintaining the same excellent sensitivity for SNP, Indel and CNV detection.
DNBSEQ™ Sequencing Technology
BGI Human Whole Genome Sequencing services are typically executed with DNBSEQ™ NGS technology platform, for great sequencing data at the competitive pricing in the industry.
This system is powered by combinatorial Probe-Anchor Synthesis (cPAS), linear isothermal Rolling-Circle Replication and DNA Nanoballs (DNB™) technology, followed by high-resolution digital imaging.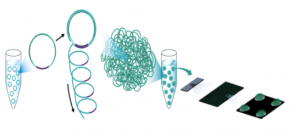 Publications
1.Wang, O., et al., Efficient and unique cobarcoding of second-generation sequencing reads from long DNA molecules enabling cost-effective and accurate sequencing, haplotyping, and de novo assembly. Genome Res, 2019. 29(5): p. 798-808.
2.Peters, B.A., J. Liu, and R. Drmanac, Co-barcoded sequence reads from long DNA fragments: a cost-effective solution for "perfect genome" sequencing. Front Genet, 2014. 5: p. 466.
Applications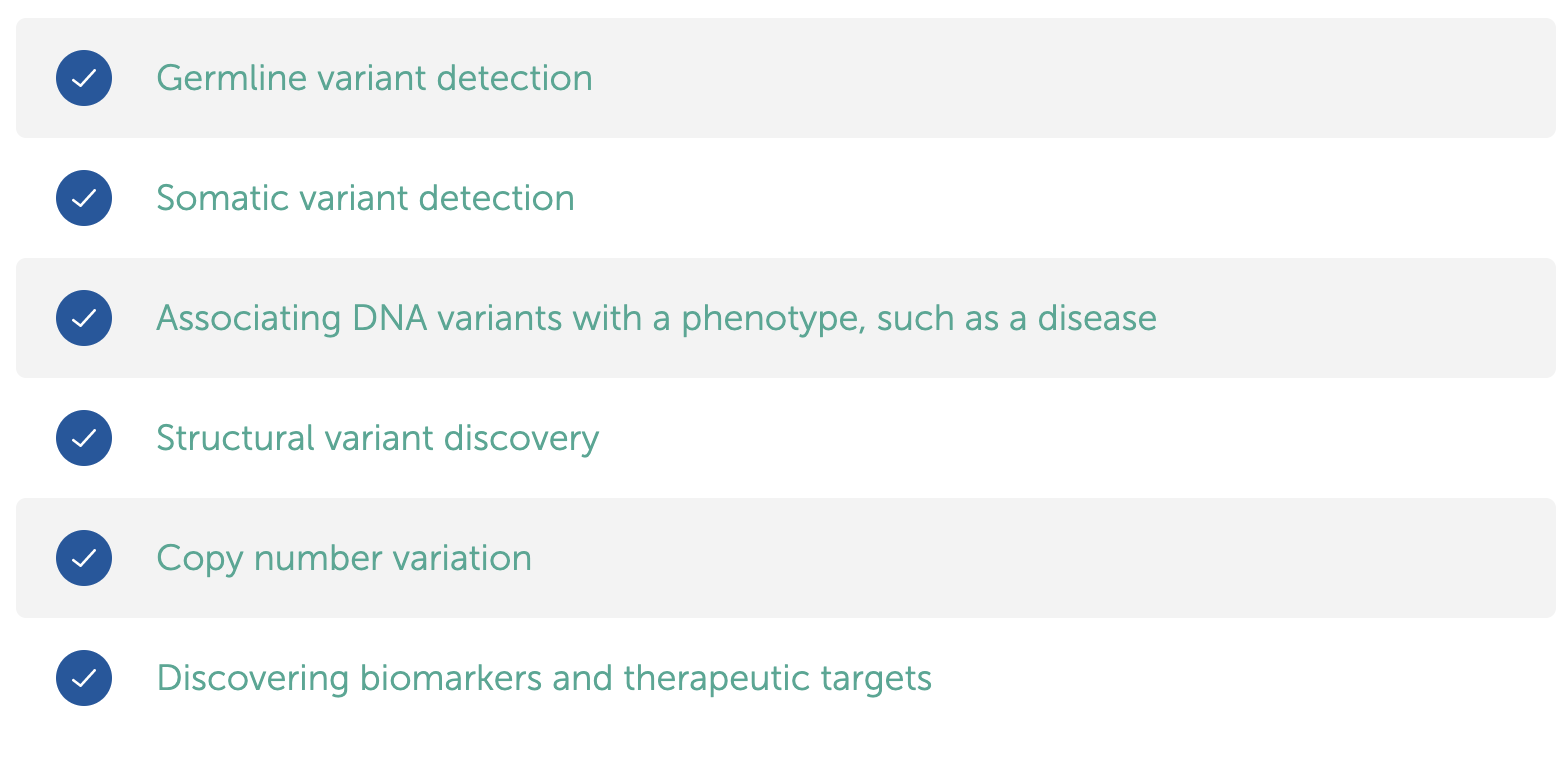 Project Workflow
We care for your samples from the start through to the result reporting. Highly experienced laboratory professionals follow strict quality procedures to ensure the integrity of your results.
SAMPLE PREPARATION
WGS LIBRARY PREPARATION
SEQUENCING
RAW DATA OUTPUT
BIOINFORMATICS ANALYSIS
How to order
Sequencing Service Specification
BGI Human Whole Genome Sequencing services are executed with the DNBSEQ™ NGS technology platform with the benefit of lower cost and turn-around-times compared to other platforms.
Sequencing Quality Standard

Co-barcoded LFR library preparation
PE100 DNBSEQ™ sequencing
Guaranteed ≥80% of bases with quality score of ≥Q30
CAP/CLIA laboratory services available
Standard and customized bioinformatics analysis available
Available data storage and bioinformatics applications

Turn Around Time

Typical 40 working days from sample QC acceptance to filtered raw data availability
Expedited services are available, contact your local BGI specialist for details
Sample Requirements
We can process your gDNA, whole blood, fresh frozen tissue and cell pellets, with the following general requirements:

Data Analysis
In addition to raw data output, BGI offers a range of standard and customized bioinformatics pipelines for your whole genome sequencing project.
STANDARD ANALYSIS
Filtering
Alignment
SNP calling and annotation
SNP validation and comparison
SNP functionality and conservation prediction
SNP statistics per functional element
InDel calling and annotation
InDel validation and comparison
InDel statistics per functional element
CNV calling and annotation
SV calling and annotation
Phasing
CUSTOMIZED ANALYSIS
Further customization of Bioinformatics analysis to suit your unique project is available: Please contact your BGI technical representative

Application Example
This figure below shows a case study in which lfrWGS (upper panels) successfully sequenced and identified the culprit of the SMN1 gene (left panels) whose mutations are responsible for the genetic disorder Spinal Muscular Astrophy (SMA). The highly homologous counterpart SMN2 gene (right panels) often interferes with the result from regular WGS (lower panels) by mis-representing the sequencing and mapping results, making this case impossible to resolve. lfrWGS enables analysis of genomic areas that are inaccessible by regular WGS.

WGS Resources
We care for your samples from the start through to the result reporting. Highly experienced laboratory professionals follow strict quality procedures to ensure the integrity of your results.