Advancing Thalassemia Prevention and Treatment in Thailand | BGI Update
2023-07-24
On July 18, BGI Genomics and FACULTY OF MEDICINE SIRIRAJ HOSPITAL, MAHIDOL UNIVERSITY, BANGKOK GENOMICS INNOVATION PUBLIC COMPANY (BGI Genomics Thailand Joint Venture Company), and HEMOGEN HONGKONG ALPHA TECHNOLOGY., LTD signed a Memorandum of Understanding (MOU) on the improvement of Thalassemia prevention and treatment programs, joint development of cellular and gene therapy collaboration.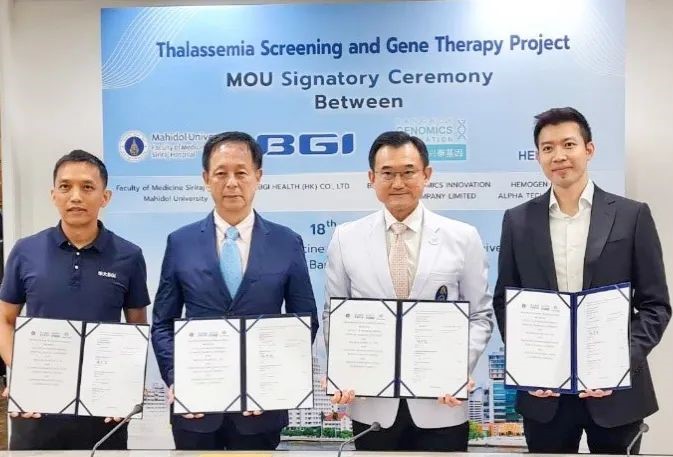 Prof. Apichat Asavamongkolkul, Dean of the Faculty of Medicine Siriraj Hospital, Mahidol University (second from right), Mr. Preecha Laohapongchana, Director of BANGKOK GENOMICS INNOVATION PUBLIC COMPANY (second from left), Dr. Chao Liu, CEO of HEMOGEN HONGKONG ALPHA TECHNOLOGY., LTD (first from left) and Jeremy Cao, General Manager of BGI Genomics Southeast Asia Region (first from right) signed the Memorandum Of Understanding (MOU).
Thailand is a country with a high prevalence of thalassemia and sickle-cell anemia, and the related hemoglobinopathies have become a prominent problem in Thailand's public health. According to statistics, 30-40% of the Thai population carries the thalassemia gene. The interaction of these genes results in more than 60 genotypes with variable clinical manifestations ranging from asymptomatic to fatal. Estimates based on gene frequencies and the number of newborn babies per year suggest that about 1.2% of babies are affected by severe thalassemia each year. Further estimates indicate that approximately 1% of the Thai population has thalassemia, making it a major national health problem.

The thalassemia gene test kit, based on high-throughput sequencing technology, can detect hemoglobinopathies such as thalassemia and sickle-cell anemia at the same time. Introducing this technology will provide a more comprehensive and accurate means of genetic testing in Thailand. High-throughput sequencing will enable a better understanding of the genotype and disease risk of patients, providing more accurate guidance for thalassemia prevention, screening and treatment.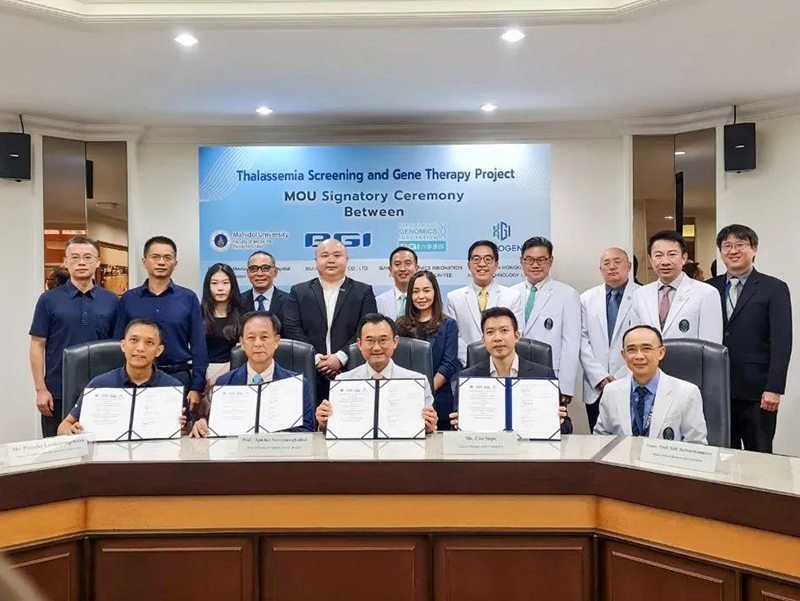 Prof. Apichat Asavamongkolkul, Dean of the Faculty of Medicine Siriraj Hospital, Mahidol University, and his team members participated in the signing ceremony and discussion session, which also saw the presence of Assoc. Prof. Prapat Wanitpongpan, Deputy Dean for Corporate Communication and International Relations, Mahidol University, and Prof. Dr. Vip Viprakasit from the Division of Hematology & Oncology, Department of Pediatrics, and other professors.
This MOU outlines that the four-party will establish a long-term strategic partnership to work together on the prevention, screening, diagnosis and treatment of thalassemia. Thalassemia is a highly prevalent disease in Thailand and places a huge burden on the national health care system. This collaboration will compare the scope, efficiency, outcomes, and health economics of thalassemia genetic screening using high-throughput sequencing-based technologies versus traditional methodologies and collaborate on clinical trials for thalassemia gene therapy in Thailand.
In addition, the four-party will work on academic and cultural exchanges, actively promote joint educational programs, collaborate on developing relevant curricula, and provide convenient support for the training of academic and non-academic personnel. Mahidol University is the oldest institution of higher education in Thailand, founded in 1888 as the Royal College of Physicians. It enjoys a high reputation in the fields of medicine, public health, and natural sciences and was named after Prince Mahidol of Songkhla, the father of modern medicine and public health in Thailand, in 1969. Mahidol University is also a member of the World Association of Universities.
BGI Genomics has been committed to preventing, controlling, and relief of thalassemia for many years. Adhering to the concept of "prevention is better than cure", BGI Genomics adopts advanced sequencing technology to promote thalassemia genetic screening together with the governments of many countries and various medical units. In China, BGI Genomics has completed several thalassemia genetic screening projects. In the future, BGI Genomics will further cooperate with all parties in Thailand, hoping to promote genetic technology for the benefit of the Thai people.
About BGI Genomics:
BGI Genomics, headquartered in Shenzhen, China, is the world's leading integrated solutions provider of precision medicine. Our services cover more than 100 countries and regions, involving more than 2,300 medical institutions. In July of 2017, as a subsidiary of BGI Group, BGI Genomics (300676.SZ) was officially listed on the Shenzhen Stock Exchange.