BGI Genomics Launches ISO 15189 Certified Lab in Brunei
2023-08-30
Brunei Darussalam's healthcare landscape achieved another significant feat with the launch of the Borneo Genomics Innovation Sdn Bhd (BGIB) Molecular Testing Lab on August 16, 2023, a state-of-the-art laboratory offering invasive prenatal testing, screening for Down syndrome, detection of human papillomavirus (HPV) and COLOTECT, a non-invasive method of screening for colorectal cancer.
Operating under ISO 15189 standards that requires robust and reliable quality management systems, the BGIB Molecular Testing Lab was launched by Minister of Health Dato Seri Setia Dr Haji Mohd Isham bin Haji Jaafar, who is also the Chairman and Executive Director of Jerudong Park Medical Centre (JPMC) and Chairman of Pantai Jerudong Specialist Centre (PJSC) at PJSC lecture theatre.
BGIB Chief Executive Officer Jeremy Cao shared the journey of BGIB in the Sultanate whereby the company first set up the Hou-Yan laboratory during the COVID-19 pandemic in 2020 and the Hou-Yan AirLab at Bridex Hall during the second wave of COVID-19 in 2021 to enhance testing and screening.
He said, "We signed a memorandum of understanding with the Ministry of Health (MoH) to initiate the HPV screening pilot project and we have conducted around 100 tests which is a game changer for HPV testing by sending the screening kits to homes. Since our lab is located at JPMC, a walking distance from PJSC, the HPV screening can be done within 24 hours. This is a transformation and digitalisation of healthcare."
Cao also revealed that BGIB hopes to build the Sultanate as a regional centre through the high standard molecular lab for public health projects.
"The lab can also monitor new strains of pathogen. This can help build healthcare infrastructure. In addition, to clinical testing, the platform can also be used for research, educational and training as well as building capacity. The collaboration with the MoH demonstrates BGIB's dedication to advancing the medical industry and providing accessible precision medicine and molecular testing services through the BGIB molecular testing laboratory," he added.
Following the launch, the minister and senior officials toured the facility.
The launching of the BGIB molecular testing lab stands as a testament of Brunei's commitment to fostering excellence in healthcare and embracing innovative solutions to meet the nation's evolving medical needs.
The laboratory plans to provide thalassemia and screening services for cancer markers in the future.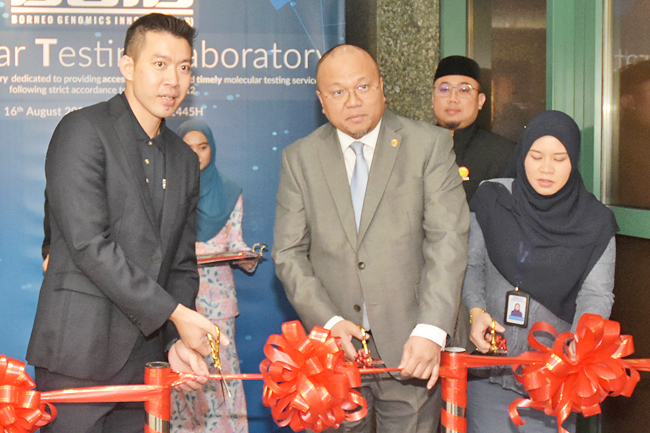 Minister of Health Dato Seri Setia Dr Haji Mohd Isham bin Haji Jaafar and Borneo Genomics Innovation Sdn Bhd (BGIB) Chief Executive Officer Jeremy Cao during the ribbon-cutting ceremony. PHOTO: JAMES KON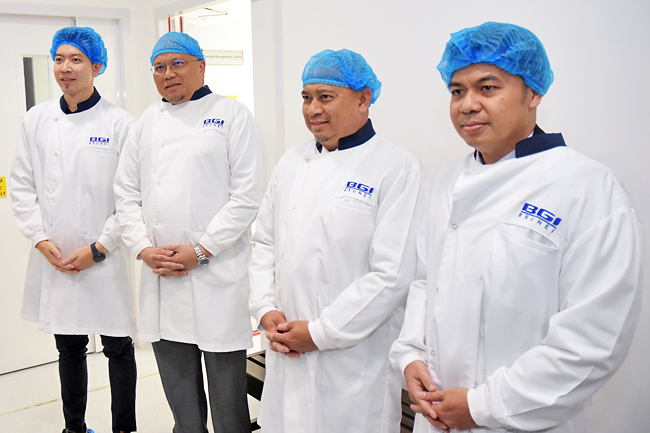 The minister and BGIB CEO tour the facility. PHOTO: JAMES KON
Source: Borneo Bulletin