Saudi Public Health Authority and BGI Genomics sign MoU to Advance Public Health
2023-11-12
As the world's leading integrated solutions provider of precision medicine, BGI Genomics has always been committed to promoting the development of life sciences and contributing to global human health. During the battle against COVID-19, BGI Genomics spared no effort to cooperate with the World Health Organization (WHO), the United Nations Children's Fund (UNICEF), the Saudi Ministry of Health and other organizations, providing concrete support to the Saudi people to control and prevent spread of Covid 19.
Against the backdrop of past collaboration, on October 31 2023, BGI Genomics, signed a Memorandum of Understanding (MoU) with the Saudi Public Health Authority (PHA), in which the two sides further extend their combined efforts based on screening and detection of infectious diseases to all-round cooperation in the fields of reproductive health, early screening of cancer, scientific research projects and talent cultivation, to inject new impetus into the cause of public health in Saudi Arabia.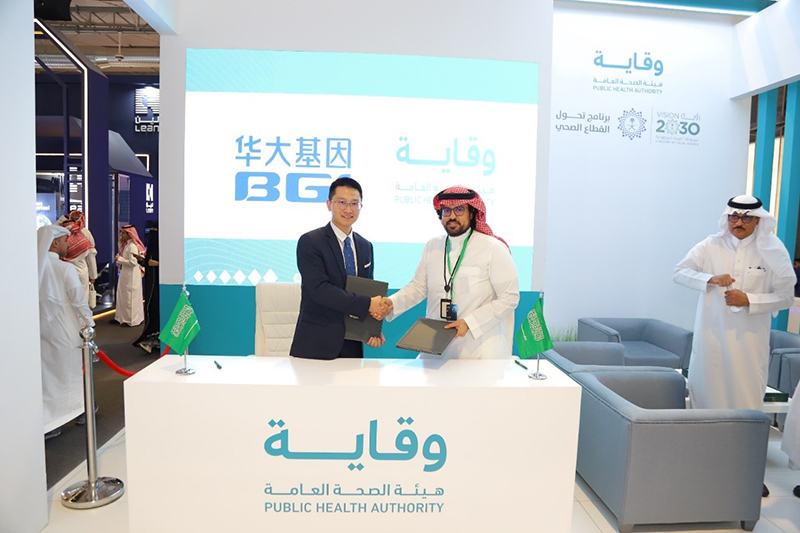 Mr. Ma Zhe, BGI Genomics West Asia General Manager(Left)shakes hands with Dr. Abdullah Rashoud Algwizani, CEO of Saudi Public Health Authority (Right).
Mr. Ma Zhe, General Manager of BGI West Asia region, said, "We are honored to further deepen our cooperation with the Saudi Public Health Authority and the signing of this MOU is proof of that. Through our joint efforts, we will bring innovation and development to the public health sector in Saudi Arabia, enhance health research and contribute to the betterment and well-being of the Saudi people."
BGI Genomics team and Saudi PHA team
About BGI Genomics:
BGI Genomics, headquartered in Shenzhen, China, is the world's leading integrated solutions provider of precision medicine. Our services cover more than 100 countries and regions, involving more than 2,300 medical institutions. In July 2017, as a subsidiary of BGI Group, BGI Genomics (300676.SZ) was officially listed on the Shenzhen Stock Exchange.
Read more:
Genalive Earns CAP Accreditation to Raise the Bar for Clinical Standards in Saudi Arabia
BGI Genomics Pioneering Precision Medicine Advancements in Saudi Arabia
From Saudi Arabia to Serbia – How BRI Enhances Healthcare and Lives
BGI Genomics Unveils Genalive's Cutting-Edge Clinical Lab in Saudi Arabia
Men's Health Matters: Spotting Prostate, Colorectal, and Heart Threats in Saudi Arabia
Ramadan Mubarak to Muslims worldwide and learn how fasting affects your gut!