We can help you determine the whole intact mass of your recombinant protein or biologic sample. Intact Mass offers a "bird's eye view" direct observation of mixtures of intact protein isoforms to monitor isoform heterogeneity and polydispersity. Observed isoform masses can be accurately matched to calculated masses of possible or expected isoforms to quickly verify recombinant protein expression or monitor sample micro-heterogeneity. BGI scientists at the San Jose Mass Spec Center have developed cutting edge Intact Mass services including Native MS utilizing multiple HPLC separation strategies combined with high resolution Orbitrap mass spectrometry1,2,3.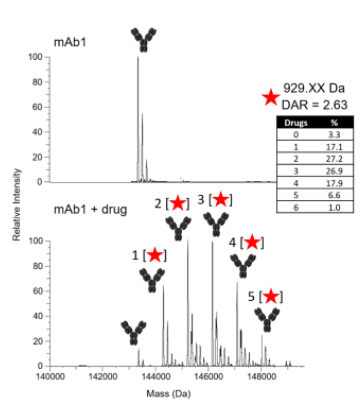 Project Workflow
Intact Mass
Our service incorporates a 3 way analysis of the untreated, deglycosylated, and reduced preparations of a biologic drug using reverse phase LC-MS. Our Intact Mass service is designed to accommodate screening and confirmation projects with large sample numbers(1). Our scientific team have developed unique, cutting edge methodologies which can support for a wide range of biologic intact mass applications. We can help you measure chain pairing of bispecific antibody samples. We also provide a complete solution for measuring drug-to-antibody ratio (DAR) on antibody-drug conjugate (ADC) samples or any other protein-small molecule conjugates.
Buffer exchange
Sample preparation scheme
Denaturing LC-MS panel (3 analyses)
Isoform ID and relative abundance
High Dynamic Range (HDR) Intact Mass
BGI provides a service for intact mass analysis of complex mixtures of biologic isoforms, including moderate-to-high glycosylation or small molecule conjugation. High Dynamic Range (HDR) Intact Mass service combines data from both denaturing and native conditions. This service is based on size exclusion (SEC) LC-MS technology to directly measure masses using both denaturing and native conditions. This service can provide a highly confident DAR measurement of intact cysteine-linked ADCs.
Buffer exchange
Sample preparation scheme
HDR LC-MS panel (5 analyses)
Native Isoform ID and relative abundance
HDR Intact Mass service incorporates 5 key analyses, including native masses for (1) intact and (2) Ides-digested subunit (for antibody-related biologics), and denatured masses for (3) intact, (4) deglycosylated, and (5) disulfide bond reduced form. We are happy to work with you to determine the best sample preparation strategy for comprehensive intact mass data of your biologic sample. Please ask us about our specialized services for measuring charge variant profile or protein-ligand binding using native MS technology2,3.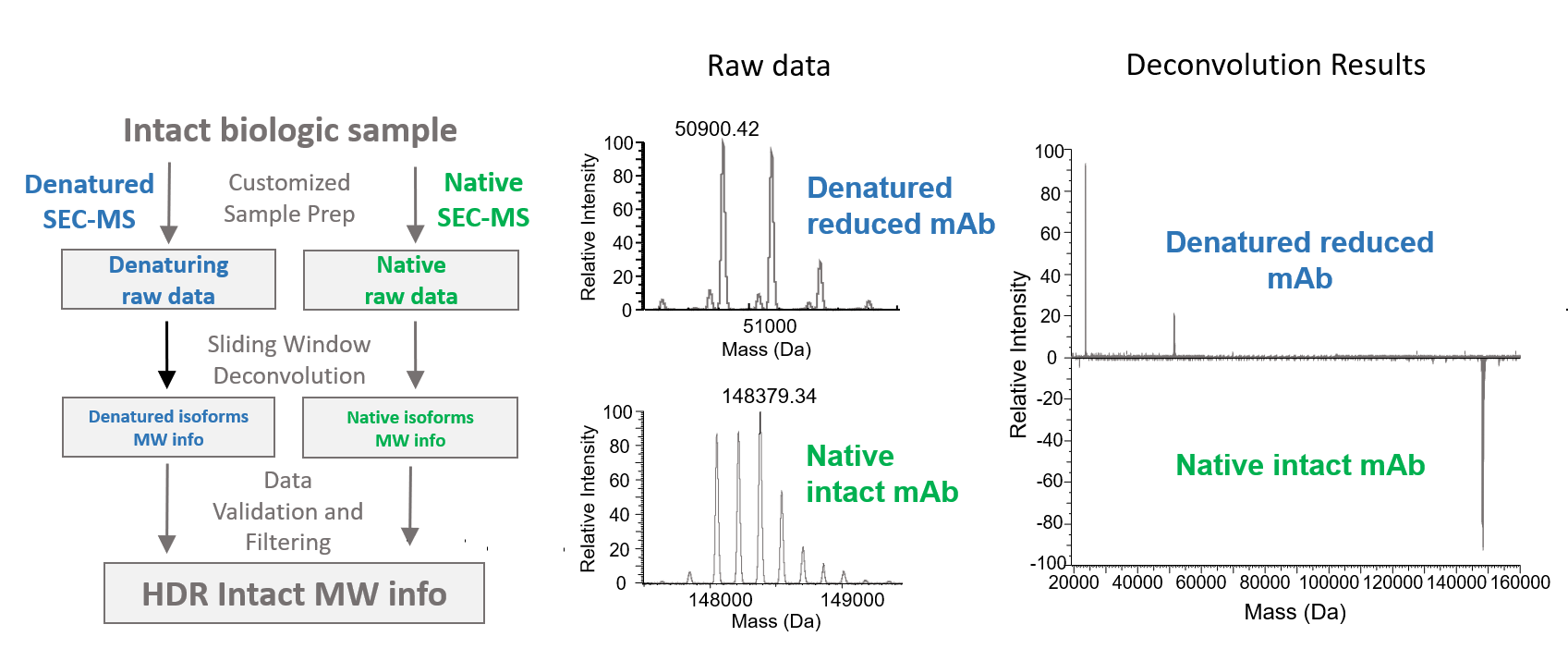 References
[1]. Schachner L, Han G, Dillon M, Zhou J, McCarty L, Ellerman D, Yin Y, Spiess C, Lill JR, Carter PJ, Sandoval W. Characterization of Chain Pairing Variants of Bispecific IgG Expressed in a Single Host Cell by High-Resolution Native and Denaturing Mass Spectrometry. Anal Chem. 2016 Dec 20;88(24):12122-12127. doi:10.1021/acs.analchem.6b02866.
[2]. Bailey AO, Han G, Phung W, Gazis P, Sutton J, Josephs JL, Sandoval W. Charge variant native mass spectrometry benefits mass precision and dynamic range of monoclonal antibody intact mass analysis. MAbs. 2018 Nov-Dec;10(8):1214-1225. doi: 10.1080/19420862.2018.152113
[3]. Ren C, Bailey AO, VanderPorten E, Oh A, Phung W, Mulvihill MM, Harris SF, Liu Y, Han G, Sandoval W. Quantitative Determination of Protein-Ligand Affinity by Size Exclusion Chromatography Directly Coupled to High-Resolution Native Mass Spectrometry. Anal Chem. 2019 Jan 2;91(1):903-911. doi:10.1021/acs.analchem.8b03829.
How to order
Mass Spectrometry Service Specification
Intact Mass services are performed using analytical flow liquid chromatography, UV detection, and high resolution Orbitrap mass spectrometry.
Sample Preparation and Services

Includes buffer exchange and denaturing sample preparation panel including denatured intact, de-glycosylation, and disulfide bond reduction

Intact Mass service utilizes 20 min analytical flow reverse phase LC-MS/MS using Q Exactive HF-X BioPharma mass spectrometer

High Dynamic Range (HDR) Intact Mass service utilizes 30 min SEC-MS performed using both denaturing and native MS-friendly mobiles phase.

HDR Intact Mass service includes native LC-MS measurement of intact and subunit masses

Data analysis and validation performed with BioPharma Finder software




Quality Standard

Summary includes all methods and data analysis

Reports provided in Excel or PDF format, RAW files available upon request




Turn Around Time

Typical 20 working days from sample QC acceptance to data report delivery



Sample Requirements

Data Analysis
ADVANCED BIOINFORMATICS
Data analysis and validation performed with BioPharma Finder software

Service allows protein isoforms to be identified by exact intact mass and quantified relative to other isoforms present

Reports provided in Excel or PDF format, RAW files available upon request