Service Description
BGI offers multi-omics services to look across genomics, transcriptomics, epigenomics, proteomics and metabolomics, with the flexibility to customize solutions that meet your specific needs. All projects are supported by an advanced bioinformatics infrastructure.
Quantitative Proteome + Phosphoproteome Correlation Analysis
Protein is the main executor of life activities, and protein phosphorylation is one of the most basic modification types. A protein function panorama and precise positioning of the leading regulatory role for interpretation of molecular mechanism can be obtained with BGI's expert quantitative proteomics and phosphoproteomics correlation analysis. BGI provides quantitative proteomics and phosphoproteomics correlation analysis spanning across diseases biomarkers research, growth and development research, regulation mechanism research of life activities, and drug target research.
Project Workflow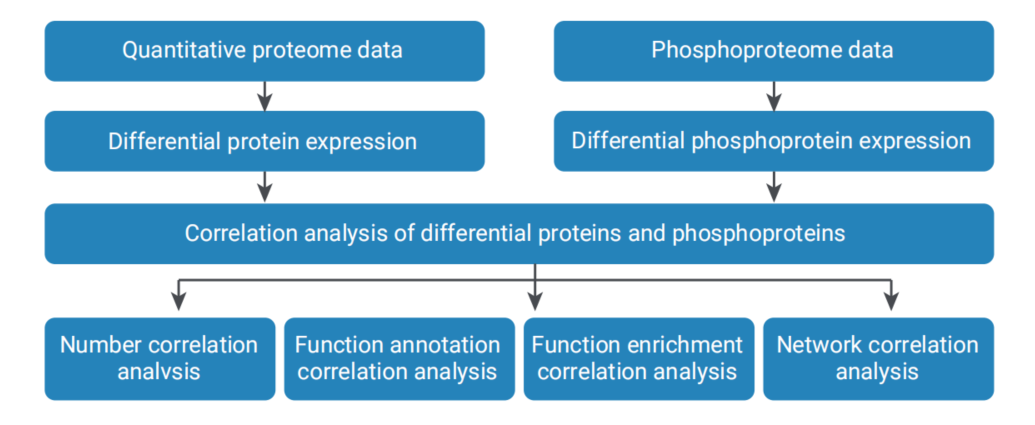 How to order
Mass Spectrometry Service Specification
Quantitative Proteome platform: Untargeted and Targeted Quantitative Proteomics services. Phosphoproteome platform: Phosphoproteomics services.
Quality Standard

Summary includes data analysis
Reports provided in PDF format, RAW files available upon request

Turn Around Time

Typical 2 weeks from LC-MS/MS raw data acceptance to data report delivery
Sample Requirements
Sample selection for Quantitative Proteome and Phosphoproteome should be as consistent as possible. Refer to quantitative proteomics and phosphoproteomics for sample delivery.
Data Analysis
DATA ANALYSIS
Protein identification and quantification number correlation analysis
Function annotation and enrichment correlation analysis
Network correlation analysis
Kinase-substrate analysis and phosphorylation site kinase prediction