Service Description
BGI has extensive experience in the field of untargeted metabolomics with developed reliable workflows using market leading technologies and an advanced bioinformatics infrastructure.
Untargeted Metabolomics
By applying state-of-the-art LC-MS/MS systems and techniques, BGI offers validated workflows of untargeted metabolomics to support biomedical and biotechnology applications¹. Our Untargeted Metabolomics services are designed to obtain a metabolite profile and screen for differentially-expressed molecules in the sample.
Project Workflow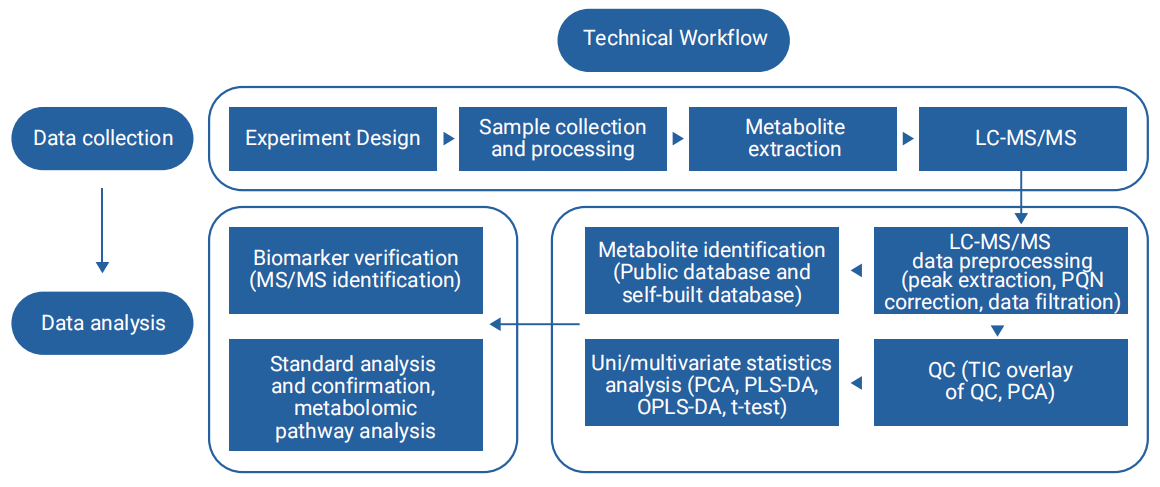 References
[1] Liu R., et al., Gut microbiome and serum metabolome alterations in obesity and after weight-loss intervention. Nat Med, 2017. 23(7): p. 859-868.
How to order
Mass Spectrometry Service Specification
Untargeted Metabolomics services are performed using Waters ACQUITY UPLC and cutting-edge mass spectrometer (Q Exactive HF/HF-X and Q-TOF 5600).
Sample Preparation and Services

Increase metabolome depth of coverage using both ACQUITY UPLC BEH C18 and Amide column

(+) and (-) ESI detection by a Q Exactive HF/HF-X mass spectrometer




Quality Standard

Summary includes all methods and data analysis

Reports provided in Excel or PDF format, RAW files available upon request




Turn Around Time

Typical 5-7 weeks after sample receipt for raw data delivery



Sample Requirements
We accept metabolite samples in a variety of formats. Contact your BGI account representative for details for your samples.
| SAMPLE TYPE | RECOMMENDED SAMPLE AMOUNT | MINIMUM SAMPLE AMOUNT |
| --- | --- | --- |
| Serum, plasma | ≥ 300 µL | ≥ 100 µL |
| Urine | ≥ 300 µL | ≥ 100 µL |
| Animal and clinical tissues | ≥ 200 mg | ≥ 25 mg |
| Feces and intestinal contents | ≥ 200 mg | ≥ 25 mg |
| Cell | 1×10^7 | 5×10^6 |
| Microorganism | ≥ 200 mg | ≥ 25 mg |
| Culture medium, fermentation medium | ≥ 1 mL | ≥ 100 µL |
| Milk | ≥ 1 mL | ≥ 100 µL |
| Other body fluids (amniotic fluid, saliva, hemolymph, cerebrospinal fluid, etc.) | ≥ 300 µL | ≥ 100 µL |
DATA ANALYSIS
Data analysis performed with metaX1 and BGI library

T-test, PCA, PLS-DA, OPLS-DA for differential metabolite identification

Cluster analysis

Metabolite pathway annotation

ROC analysis

Metabolite correlation analysis