Over 60 SCI Journal Publications Highlight BGI Genomics Advances in NIPT Research
2023-07-13
In December 2022, the American College of Medical Genetics and Genomics recommended that all pregnant women be offered non-invasive prenatal testing (NIPT) over traditional screening methods in its Evidence-Based Clinical Practice Guideline (EBG).
BGI Genomics has been at the forefront of offering NIPT services backed by research, with the publication of over 60 SCI (Science Citation Index) papers on this topic, with a total impact factor of more than 350 points. These studies have been published on Cell, Genome Medicine, Genetics in Medicine, and other top-tier scientific journals.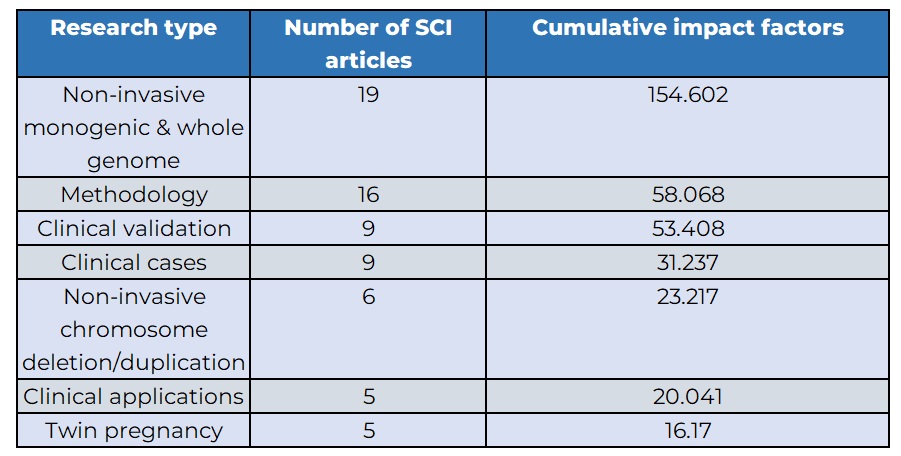 BGI Genomics research covers various aspects of prenatal testing, including clinical validation, clinical applications, clinical cases, twin pregnancy, non-invasive chromosome deletion/duplication, and non-invasive single gene & whole genome.
With so much data, let's start with a quick rundown of three recent impactful papers.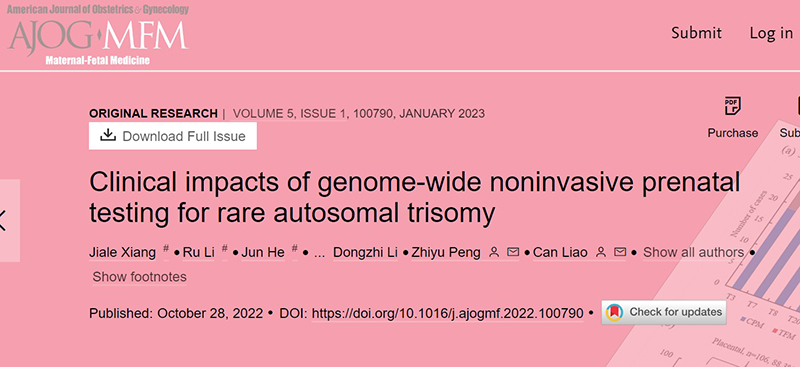 Clinical impacts of genome-wide noninvasive prenatal testing for rare autosomal trisomy
Publication Date: October 28, 2022
Publication: American Journal of Obstetrics & Gynecology MFM
Research results: Genome-wide NIPT can detect several rare autosomal trisomies in pregnancies. However, its utility is debated due to the low positive predictive value (PPV). Furthermore, there is a need for more evidence regarding the clinical application of using NIPT for detecting rare autosomal trisomies. The researchers looked into the origins of rare autosomal trisomies and rare autosomal trisomies in clinical settings.
Through NIPT, a total of 154 rare autosomal trisomies (0.17%) were detected in 89,242 pregnancies. Clinical follow-up showed that 40% of all cases of rare autosomal trisomy had adverse perinatal outcomes. The NIPT-revealed placental mosaicism ratio was significantly higher in women who experienced adverse perinatal outcomes than those who did not (0.688 vs 0.332; P.001). These results provide valuable data to advise a patient testing positive for a rare autosomal trisomy and for the subsequent pregnancy's risk management.
---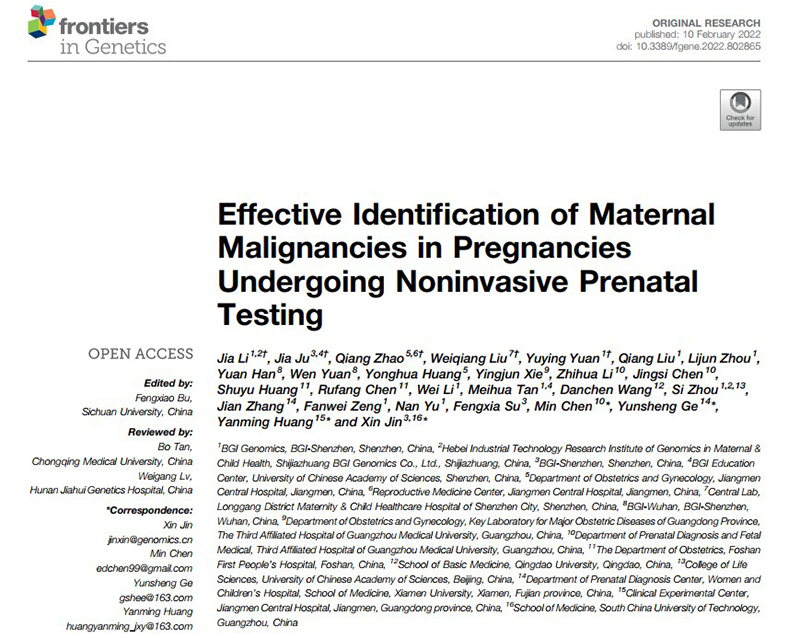 Effective Identification of Maternal Malignancies in Pregnancies Undergoing Noninvasive Prenatal Testing
Publication Date: February 10, 2022
Publication: Frontiers in Genetics
Research results: Maternal malignancy may cause false-positive results for NIPT tests, and there currently is no efficient way to detect maternal cancer patients from pregnant women with multiple chromosomal aneuploidies (MCA) results using NIPT. The researchers enrolled 496 patients with MCA results via NIPT from January 2016 to June 2019. They separated them into two groups based on clinical follow-ups: cancer and non-cancer participants. From January 2016 to December 2017, a cohort of 42 maternal cancer patients and 294 non-cancer cases were used to develop a method called mean of the top five chromosomal z scores (MTOP5Zscores).
Breast cancer, liver cancer, and lymphoma were confirmed in 62 cases of maternal cancer. In identifying maternal cancer among pregnant women with MCA results, MTOP5Z scores showed a sensitivity of 85% and a specificity of 80%. For the prediction of breast cancer, liver cancer, and lymphoma, the classifier's sensitivity was 93.33, 66.67, and 50%, respectively, while specificity was 66.67, 90, and 97.06%, and positive predictive value (PPV) was 60.87, 72.73, and 80% .
---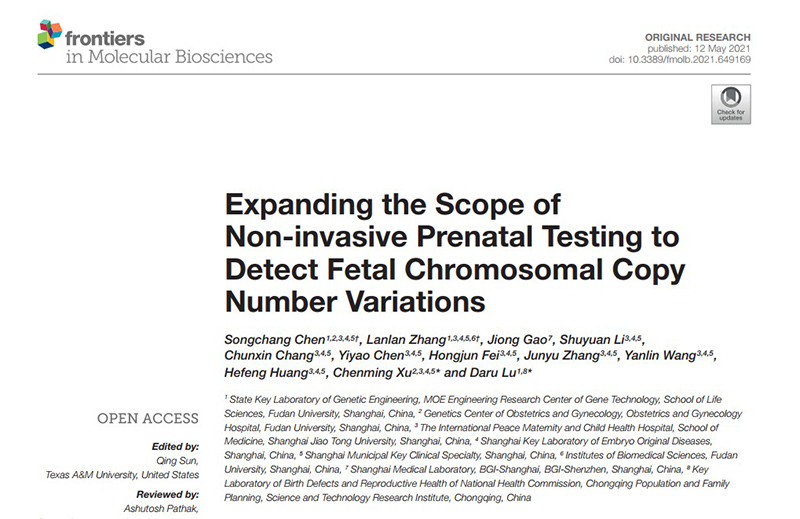 Expanding the Scope of Non-invasive Prenatal Testing to Detect Fetal Chromosomal Copy Number Variations
Publication Date: May 12, 2021
Publication: Frontiers in Molecular Biosciences
Research results: NIPT has successfully detected common fetal trisomies, but its capacity to detect other chromosomal abnormalities is yet to be verified. The team investigated the positive rate in next-generation sequencing (NGS) at various read depths and developed a fetal copy number variant (CNV) detection technique in NIPT. The positive CNV detection rate rose as read depth increased. Positive CNV identification rates with tiny fragments at 25 M were greater with NGS than with karyotype analysis. Increasing read depth in NGS enhances positive CNV detection while decreasing false positive detection.
In summary, NIPT by NGS is a potential method for fetal CNV detection. Increasing read depth is critical for lowering the rate of false positive CNV detection and the frequency of unnecessary amniocentesis for suspected CNVs.
Additional Reading
NIFTY Test Receives Australia's Therapeutic Goods Administration Approval
Whole Genome Sequencing is a more comprehensive prenatal test l BGI Perspectives
How Noninvasive Prenatal Testing (NIPT) can help expecting parents l BGI Perspectives
Nutrition and Prenatal Tests are Vital for Future Parents l BGI Perspectives
About BGI Genomics
BGI Genomics, headquartered in Shenzhen, China, is the world's leading integrated solutions provider of precision medicine. To learn more about the NIFTY® Test - the world's leading non-invasive prenatal test (NIPT), please see our website. In July 2017, as a subsidiary of BGI Group, BGI Genomics (300676.SZ) was officially listed on the Shenzhen Stock Exchange.