BGI COLOTECT 3.0 Demonstrates Higher Colorectal Cancer Detection Densitivity than FIT
2023-01-31
- COLOTECT™ 3.0, a multi-target fecal DNA test outperforms fecal immunochemical tests (FIT) in terms of detection of colorectal cancer and advanced precancerous lesions
SAN FRANCISCO, US, January 21, 2023 -- BGI Genomics, a global life sciences company providing integrated solutions of precision medicine, presented case-control study data on its COLOTECT™ 3.0 non-invasive colorectal cancer screening test at the 2023 ASCO Gastrointestinal Cancers Symposium (ASCO GI 2023) and announced plans for further global clinical studies.
According to data released during ASCO GI 2023, in a recently concluded multi-center case-control study, BGI Genomics collected stool specimens from a total of 783 subjects with Colorectal cancer (CRC), advanced precancerous lesions (APL), non-advanced neoplasms and individuals with negative findings on colonoscopy from six sites across China. All participants underwent colonoscopy. Stool specimens from these participants were tested with the COLOTECT™ 3.0 multi-target fecal DNA test as well as a quantitative Fecal immunochemical test (FIT) (OC FIT-CHEK, Eiken) in parallel to perform head-to-head comparison of the test performance of both assays.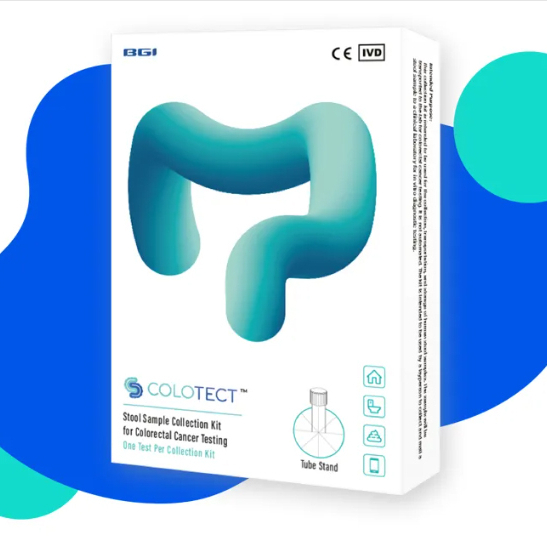 ASCO GI 2023 Sensitivity and specificity of the multi-target fecal DNA test of COLOTECT 3.0 poster
COLOTECT™ 3.0, a multi-target fecal DNA test demonstrated higher sensitivity (96.1%) than FIT (85.8%) for CRCs (n=204). Meanwhile, 52.5% of patients (n=40) with APL tested positive by COLOTECT™ 3.0, which was remarkably superior to FIT (22.5%). Among 539 participants with non-advanced neoplasms or negative findings on colonoscopy, the specificity of COLOTECT™ 3.0 was 87.4%, compared with a specificity of 93.1% achieved by FIT.
"COLOTECT™ 3.0 is a novel multi-target fecal DNA based assay, which integrates detection of two stool DNA (sDNA) methylation markers by quantitative methylation specific PCR (qMSP) and immunochemical fecal occult blood test," explained Jiaxi Peng, first author of the study. "COLOTECT™ 3.0 exhibited notably superior sensitivity for both Colorectal cancer (CRC) and advanced precancerous lesions (APL) cases than the widely adopted quantitative Fecal immunochemical test (FIT), while sacrificing a little specificity but keeping it at a very acceptable level. Our results suggest that this novel multi-target fecal based test may be used as an effective tool for early detection and screening of CRC," Peng said.
Helen Wang, R&D chief of the BGI Genomics Oncology Department and corresponding author of the study, expressed satisfaction at the current clinical data and emphasized that BGI plans to further validate the performance of COLOTECT™ 3.0 with clinical studies. "We are pleased with the good results from our case-control study and plan to move forward with a large-scale prospective cohort study in China as well as other studies outside of China, all due to start in 2023," said Wang.
Jieming Chu, Director of Commercial Operations at BGI Group and International Market Project Leader for COLOTECT™ 3.0, said the company is on track to launching COLOTECT™ 3.0 worldwide in early 2023 via BGI's global network of clinical laboratories and partners.
"Colorectal cancer represents a massive health burden globally. The shortage of hospital-based healthcare resources, exacerbated by the ongoing COVID-19 pandemic, calls for a high-performance, non-invasive, painless, and affordable CRC screening test that can be done in the comfort and privacy of one's home. We feel confident that COLOTECT™ 3.0 hits all these marks and is ready to be launched worldwide in the markets outside of the United States in early 2023. We are open to working with partners around the world to bring this life-saving technology to the billions of people who can benefit from CRC screening," Chu said Saturday at the ASCO GI 2023 in San Francisco, United States.
Remarks:
COLOTECT™ 3.0 has obtained CE certification and MHRA approval. For product availability in your country/region, please contact info@bgi.com
Additional Readings:
DNA methylation tests enable better colorectal cancer treatment - BGI Perspectives
Hard to discover and with a high mortality rate, that is colorectal cancer
What you should know about colorectal cancer
BGI Non-Invasive Colorectal Cancer Screening
Early cancer screening helps fight global cancer treatment inequalities - BGI Perspectives
About BGI Genomics

BGI Genomics, headquartered in Shenzhen China, is the world's leading integrated solutions provider of precision medicine. Our services cover over 100 countries and regions, involving more than 2,300 medical institutions. In July 2017, as a subsidiary of BGI Group, BGI Genomics (300676.SZ) was officially listed on the Shenzhen Stock Exchange.