Hungary sees 116% growth in non-invasive prenatal testing | BGI Perspectives
2022-11-11
The 17th International Conference of Genomics (ICG-17), jointly organized by BGI Genomics in Riga, offered food for thought on the current state of genetic research and where it's headed. Ms. Anna Kékesi, a molecular biologist from Budapest Gene Diagnostic Center, shared her perspectives on the Non-Invasive Prenatal Testing (NIPT) experience in Hungary and the challenges that lie ahead.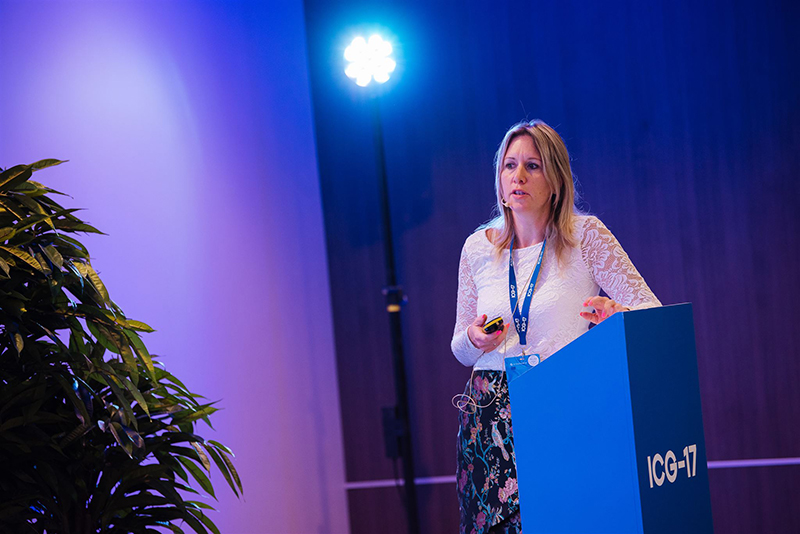 Ms. Kékesi introduces NIPT experience in Hungary
Ms. Kékesi highlights Hungary's prenatal health services are mainly divided into public and privately funded investigations, with public hospitals offering four ultrasound sessions and chromosomal investigations above the maternal age 37, while private health institutes provide NIPT services.
The growth of NIPT in Hungary
Since 2015, there has been a steady exponential growth of NIPT. In 2021, the number of babies born in Hungary is about 90.000 and NIPT tests made were 12,000, which accounts for 13% of the population. Parents increasingly choose this testing method, despite having to pay for it themselves. "Last year we did nearly six thousand NIPT tests and covered 50% of the Hungarian market. I think it's quite a high number."

Growing popularity of NIPT in Hungary
To explain the popularity of BGI Genomics NIFTY solution, Ms. Kékesi points out, "Why is NIFTY a professional test? Because it detects 94 different chromosomal alterations and 84 microdeletion/microduplication syndromes. It has validated a very high number of cases in the world, more than 9.4 million NIFTY tests performed worldwide. I can tell you that NIFTY is not only a test. It's a very high-quality NIPT service in our clinic and for the whole of Hungary."
Examples of NIPT accuracy
To highlight NIPT accuracy, Ms. Kékesi cites examples where non-invasive test matched invasive test results.
She noted, "we had two cases with positive NIFTY for Down syndrome. To further assess the situation, we did Chorionic Villus Sampling (CVS). Such testing also showed the same results. This is very important and shows the high sensitivity of the NIFTY Test Pro, as both of these cases had placenta mosaicism. This means that NIFTY can detect Down syndrome when the placenta produces normal lines, but it can also see the fetus."
The Hungarian NIFTY model
The Center works with 200 partners all over the country. The first step is a pre-test consultation, mostly with clinical geneticists. The doctor mentions the advantages and disadvantages. The next step is a blood draw. After that, the patient needs to fill out the required form and sample administration. The Center's laboratory then does plasma separation as well as the report validation. The last yet very important step is a post-test consultation, where the mother is informed about the result.
When to opt for NIPT
When asked about the candidates for non-invasive prenatal testing, Ms. Kékesi has the following to say, "We offer NIPT when the maternal age is above 35, if there is intermediate/high risk of the combined test, in case risk is less than 1/100, or if there were chromosomal abnormalities during a previous pregnancy. And also in case the mother is afraid of invasive prenatal investigation due to miscarriage risk."
The importance of patient education and support
When it comes to spreading NIPT awareness, Ms. Kékesi stresses the importance of long-term communication endeavors. She together with the team at Budapest Gene Diagnostic Center have been educating patients for nine years through the internet, media and magazines.
In the case of positive testing, continued support is just as important: "We always offer help, of course. In 80% of these positive cases, follow-up is done at our clinic. Even when it's done at other institutes, we always contact doctors there and offer assistance to the patient, evaluating each different situation."
Additional Reading
What parents need to know about prenatal tests | BGI Perspectives

Whole Genome Sequencing is a more comprehensive prenatal test l BGI Perspectives
How Noninvasive Prenatal Testing (NIPT) can help expecting parents l BGI Perspectives
Nutrition and Prenatal Tests are Vital for Future Parents l BGI Perspectives
How the latest treatments and prenatal tests help with infertility problems l BGI Perspectives
About NIFTY®: Non-invasive prenatal testing
To learn more about the NIFTY® Test - the world's leading non-invasive prenatal testing (NIPT), please see our website. The NIFTY Test is suitable for pregnant women from 10 weeks of pregnancy, with an estimated turnaround time of under seven days. There are over 10,000,000 NIFTY samples processed as of 2021.
About BGI Genomics
BGI Genomics, headquartered in Shenzhen China, is the world's leading integrated solutions provider of precision medicine. In July of 2017, as a subsidiary of BGI Group, BGI Genomics (300676.SZ) was officially listed on the Shenzhen Stock Exchange. BGI has topped the Asia Pacific and China life science corporate institution ranking table for the seventh year running, released in the 2022 Nature Index Annual Tables.